The Best Way to Spread Christmas Cheer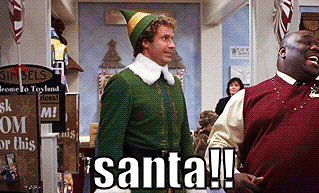 I'm somewhat of a Christmas junkie. There's not too much that I don't like about this time of the year. Sure, it's overly hectic out in public and traffic can be a nightmare when you're trying to get somewhere and buy something, but to me that's all part of the package. I enjoy the real reason for the season, the red cups and holiday flavors at Starbucks, Christmas lights on the houses, decorating the tree, Santa, eating my face off, family, watching movies like Elf, A Christmas Story and It's a Wonderful Life. And of course you can't forget listening to all the great Christmas classics like Bing, Crooners, Boney M, Metro and Michael Bublé. I think the only ingredient I tend to miss is the snow. If I could have an all-out Christmas Eve blizzard…that would make Christmas incredible!
I do know Christmas time is not everyone's favorite especially when you're lonely or broke…or both! Neither of those make life fun at any time of the year. If you're going through either, I can tell you that the best way to spread Christmas cheer is singing loud for all to hear.* But since most of us wouldn't dare attempt singing loud in public, then I suggest the next best thing besides hot cocoa; making a minor adjustment to a major way of seeing.
I read a commentary on the Bible story of Joseph the other day that said Joseph was imprisoned for approximately 13 years. I can't imagine being in his shoes. After the tenth year I would consider my hope of being set free, completely gone.
Accused of a crime he didn't commit, Joe had no lawyer to defend him. No second party witness willing to vouch for his character. No friends or family. No one in prison willing to help him. He had nothing and nobody.
It reminds me of other stories like the one of Thomas Edison. His teacher once told him that he was too stupid to learn anything. That's tough when an authority figure you respect plants a thought like that at a young age. Oprah Winfrey was fired from her first television job as an anchor, because she wasn't good enough for television. Walt Disney was fired by a newspaper editor because he was told that he lacked imagination and had no good ideas. Hard to believe isn't it? At their lowest point, nobody would have ever suspected Joseph, Thomas, Oprah or Walt to have risen to the level of success that they did. Yet they all did something very intentional, and in turn changed history forever. They maintained a positive attitude.
Long time college coach Lou Holtz once said that life is 10% what happens to us and 90% how we respond to it. If you want to respond positively to the curve ball of life, It involves a great attitude matched with persistence. Simply put, you don't let yourself give up.
You don't let your thoughts, fears, lack of money or lack of friends get the best of who you are. Life may have slowed you down but you can't let it stop you. You get back up even if it's your tenth year in prison. You smile because there is a better day around the corner. You stand in faith one more day and you keep believing for something you don't see. Because there really is something you don't see yet – your inheritance!
"…imitate those who through faith and patience(persistence) inherit the promises." Hebrews 6:12
Time for hot cocoa!
Pastor Shian
*quote from the infamous Buddy the Elf